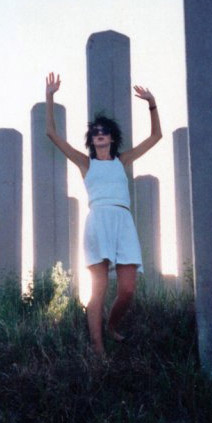 Michaele Jordana Berman is a transmedia artist whose work explores the convergence of painting, photography, performance art, music, video & technology in digital media.


A photorealist painter, her work is in collections including The National Gallery of Canada and Art Bank.


Michaele lived in the high Arctic to be near the mythical whales she depicted in her Oceans of Blood series of monumental paintings. Carnivore, Michaele's iconic photographic exhibition held at The Isaacs Gallery, portrays life within the ice-age hunting society she experienced on the frozen tundra and sea ice of the Arctic Ocean - where elemental powers still dominate man.


Her performance art piece, The Rites of Nuliajuk, marked the beginning of her exploration into persona, her use of alternate realities as tools for narrative, and her subsequent evolution into performance art.


Continuing her exploration into the power of persona, Michaele created the award winning Canadian new wave group The Poles - with composer Douglas Pringle, naming the group after their journey to the North Pole.
With futuristic lyrics, The Poles became trail-blazers of the new wave sound, best known for their anthem-like material including CN Tower, XRay Robot, and Cannibal Kids which they performed at universities, art galleries, theatres and venues including CBGB's, Max's and Crash & Burn.

With The PeakMedia Collective, Michaele has produced large-scale installations including: Winter Sky, the 24,000 sq. ft. immersive video fresco of animation, 3D motion graphics, and light projections - transforming the entire vaulted canopy of Sherway Gardens into a spectacle of winter skies; and The Media Tree, a site-specific, 96-screen, 3-story installation of thematic ambient video painting at Casino Niagara.


As a professor, Michaele has taught Painting, Experimental Art, Video, Drawing and GameWorlds. Her work using pioneering assistive technology and art with special needs students has culminated in television productions including Moving with The Light and the award winning Face to Face.


CYBORG: The Human Condition, Michaele's newest and on-going body of large-scale photographic digital paintings, continues her life-long interest in producing work as narrative, now evolving futuristic persona to draw parallels between the primordial origins of the human species and our evolution as present-day entities in cyberspace.